Do you provide sessions via telephone? Video conference?
Yes, and yes. My clients are busy and travel a lot, so they often find telephone and video conference (we use Zoom.us) to be more convenient.
Another benefit is that we can also record our calls/video conference sessions (if you want) so you can listen to them again – and you don't have to worry about taking notes.
What are your hours?
Mondays to Thursdays, 8 am to 5 pm Central Time, Saturday mornings, 8-Noon
Do you take insurance?
I don't take insurance for the following reasons:
Forces me to make diagnoses
Limits the services I can provide
Compromises the Privacy of the client
I can't charge what I'm worth.
Won't allow "package" session discounts
Frankly, I can't stand the brain damage of working with insurance companies.
How many sessions will it take?
Until you complete assessments and we've had an initial session, I won't be able to estimate the number of sessions it will take.
Generally, I recommend my clients commit to three sessions and then we can assess how you feel and what you can do.
It depends on the severity of your issues and on your willingness to open yourself to this process and to do the work.
How do I set up an introductory phone call?
How does the introductory call work?
Introductory calls last 15-20 minutes and are free. The goal is for us to see if there's a fit
How do I schedule an initial therapy session?
What is your cancellation policy?
Except in emergencies/illness, sessions cancelled less than 24 hours prior to the scheduled time will be billed in full.
Who do you work with?
I primarily work with high-performance executives and business owners (and their spouses/family members if needed).
What mental health problems do you work with?
Most of my clients are experiencing either temporary or chronic anxiety, depression, overwhelm, and isolation. Some of my clients also have substance problems.
Do you work with couples?
No, I only work with individuals at this time. However, the quality of your relationships with all the important people in your life is a key focus of our process.
Do you work with families?
No, I only work with individuals at this time. However, the quality of your relationships with all the important people in your life is a key focus of our process.
What do you actually do in sessions with clients?
First, we explore and identify the client's goals for therapy and the challenges that they are experiencing.
Clients complete a series of assessments to help us pinpoint their goals and challenges.
The client brings the "agenda" for each meeting, depending on what they are experiencing and want to work on most.
I create an action plan (with homework) and provide accountability for the client.
Do clients receive homework between sessions?
Usually. It takes many forms. (Some of them are a lot of fun!)
What modalities do you use in therapy?
The main technique I use is to be very curious, ask questions that arise out of that curiosity, and listen very, very carefully.
At the risk of being overly technical, I use the following approaches interchangeably: Solution Focused Brief Therapy, Acceptance and Commitment Therapy (ACT), Dialectical Behavioral Therapy (DBT), and Brain Spotting (especially for trauma work).
What is your professional training? Experience?
In addition to running 8 businesses since 1982, I have been a licensed therapist in the State of Nebraska since 2014.
I received my master's degree in clinical counseling from the University of Nebraska at Omaha (magna cum laude).
I am also a certified executive coach (International Coaching Federation) and received my training from Coaching Training Institute (CTI) in San Francisco. I received my undergraduate degree from Brown University.
What else does a client need to know to get the most out of therapy with you?
"Fit" is the key. You need to feel (and I need to help you feel) that I "get" you.
Again, the feeling of being truly "gotten" is the most powerful and healing force anyone can experience.
In earning my clients' confidence and trust, I ask them to be as open to me and the journey we are on as possible.
The amount of effort you put into this process will dictate what you get out of it. This may mean risking being uncomfortable and pushing yourself to make some changes.
Bottom line: If nothing changes, nothing changes.
What results can I expect?
Each clients' goals and results are unique. Generally, however, they report the following:
Greater peace of mind, less anxiety
Relief from depression/overwhelm.
Greater ability to manage "moods" and optimize productivity and effectiveness – both personally and professionally
Less isolation and more community
Enjoying all areas of their lives again (business, relationships, family, fun)
What about confidentiality?
As a masters-degreed behavioral health provider licensed to practice in the State of Nebraska, I am also bound by the American Counseling Association's Code of Ethics Section B, which states that the right of confidentiality belongs exclusively to the client and that, therefore, I may only share content from client sessions when ordered to do so, in writing, by the client or his/her legal counsel.
What sign are you?
Libra, always trying to get things in balance, not often successful.
Do you have a red leather couch with brass buttons?
Not presently. I'm quite casual. But if you need it, we will consider a run to NFM.
What do you do for fun?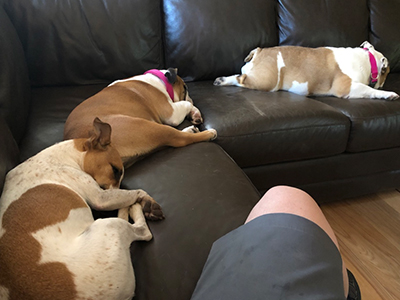 Not enough!
Travel is my passion. Europe generally and Italy specifically.
Spending time with our dogs, including two very lumpy English bulldogs, Lucy and Phyllis, and a Jack Russell named Harvey.
Are you originally from Omaha?
Yes, but I went to school on the east coast and worked for advertising agencies there.
I returned to Omaha in 1982 to run my family business. (I was third generation, who as you know typically put it in the ditch. I think I dodged that truism.)
You have family here?
Yes, Sheila, my beautiful wife of 30 years and four beautiful kids. Plus, my smallish family and my wife's large extended family.
Favorite music?
Very eclectic preferences, but right now, having just seen the Aretha Franklin documentary "Amazing Grace," old school gospel is my fav. Everything from blues to punk to baroque chorales.
Any other fun facts?
I started an organization which provides PTSD treatment to Nebraska military family called AtEaseUSA.org. A big part of why I became a therapist.
I am a compulsive professional rugby fan. Go figure.